Current News - December 2017 / January 2018
Functional Programming Workshop
Data61 invites ASOR members to participate in a free 3-day Functional Programming workshop in Melbourne, 29-31 January 2018. This workshop is being run by the Queensland Functional Programming Lab (a Data61/CSIRO and Queensland Government initiative), and can accommodate up to 50 people (as of mid-January there are less than ten positions remaining). The workshop will be split into two tracks of focus:

1. **Introduction to Functional Programming**. This is the traditional workshop that has been run by Data61 for many years. This track is targeted toward people who have some basic programming experience, but little or no exposure to Functional Programming.

2. **Applied Functional Programming**. This is new course material that is targeted toward programmers who have become proficient with navigating Functional Programming concepts, and in particular, Haskell data structures. This course material involves writing a web application with a database backend.

Who should attend? Anyone who is interested in Functional Programming (FP) is encouraged to register.  The introductory workshop track is designed to be inclusive
and requires no prior experience with functional programming.  Each session will be instructed by team members of the QFPL and you will be using the Haskell programming language to help you along your path of FP discovery. The Applied FP track will also be instructed by QFPL team members.

Program Details:  Monday 29 January 2018 – Wednesday 31 January 2018 (9am to 5pm), at CSIRO, 343 Royal Parade, Parkville VIC 3052
There is no cost but participants will be required to bring a suitable development machine (portable) for working through the exercises. You will also need to install the Glasgow Haskell Compiler (http://www.haskell.org/ghc/) version 7.8 or higher on that machine.

Please email an expression of interest to This email address is being protected from spambots. You need JavaScript enabled to view it., with cc to This email address is being protected from spambots. You need JavaScript enabled to view it., as soon as possible. In your response, please address the questions below. These questions are used to ensure that your expectations are compatible with the courses (your answers will not be shared outside of the QFPL team). Q1. How would you rate your level of understanding of functional programming? and Q2. What would you hope to get out of the session?
Sci+Tech in the City 2018
The successful Thursday evenings seminar / meeting events Sci+Tech in the City, which are held in the Demo Room at Data61 Docklands (Melbourne) and are co-presented by Data61, ASOR and Risklab will continue in 2018. We are currently planning to start again in early March, with an enhanced format based on a trio of speakers every second week, and special events every other week. OR and Optimisation topics will feature throughout 2018. There is an open call for expressions of interest in speaking at Sci+Tech in the City, and for weekly topic suggestions: contact This email address is being protected from spambots. You need JavaScript enabled to view it. to do so.
| | |
| --- | --- |
| | |
| Alan Dormer presenting at Sci+Tech in the City's Optimisation event on November 2017 |  Packed house in the Data61 demo room on Collins Street |
Round Up of ASOR National Conference 2017 and ASOR Award Winners 2017
The ASOR National Conference 2017 was held alongside the Defence OR Symposium (DORS) within the MODSIM conference at the Grand Chancellor Hotel on the waterfront in Hobart between 3 December and 8 December 2017. The ASOR/MODSIM/DORS conference had around 1000 delegates, including approximately 50 ASOR talks. ASOR members' OR contributions were in ASOR streams and well as DORS and the mainstream MODSIM sessions. An ASOR Invited Presentation was delivered by Rodolfo Garcia-Flores, on his experiences with Constraint Programming.  The 2016 ASOR Ren Potts winner Leonid Churilov presented one of six plenary talks at the conference (on Thursday morning), and was insightful and entertaining in his talk titled The Art, Science, and Joy of Healthcare Modelling: being an important part of the effort to combat the world's third biggest killer. He presented a broad perspective on past, present, and potential future of healthcare modelling that he has acquired from both ends of the "academic divide" over the last twenty-plus years. His special focus was on modelling work performed while contributing to the effort of combatting the world's third biggest killer, which is stroke.
The ASOR Annual General Meeting was held on Tuesday at 6pm, and an exchange of ideas about how to engage member was prominent in the discussion.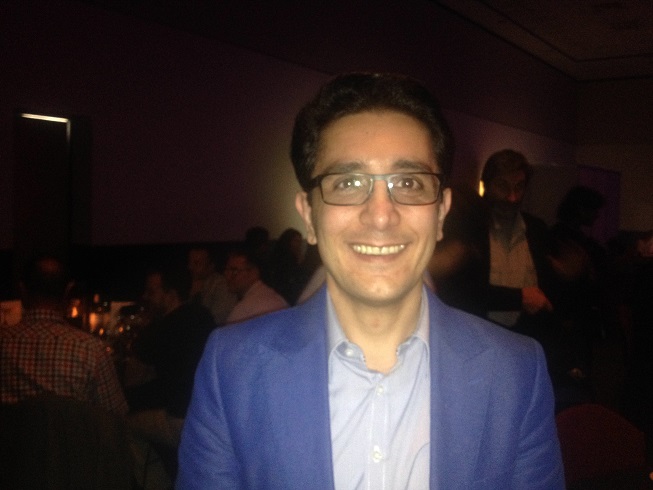 For ASOR's major annual awards, we congratulate Peter Taylor on receiving the ASOR Ren Potts Medal for 2017, and Ali Eshragh (pictured above) for receiving the ASOR Rising Star Award for 2017. ASOR members nominated multiple high-quality candidates for both of these awards, and this kept the adjudicating panel of Jerzy Filar (chair), Hussein Abbas and Simon Dunstall on their toes. The awards were presented at the conference dinner on 7 December.
The best student paper award went to Nigel Clay for Discrete time stochastic control for blood inventories. There were several other high-quality student papers/presentations. For the numerous ASOR members who attend it, the final session on Optimal Decisions under Uncertainty (stream J6) was a highlight and is hopefully indicative of the future, both in terms of who presented (mainly, several young researchers making substantial contributions to the field) and what was presented (whole-hearted and successful attempts at progressing non-deterministic optimisation and analytics). Presenters in this session included (left-to-right, top-to-bottom below) Nicolas Langrene, Monica Chen, Nicholas Davey and James Looker.
ASOR again extends its thanks to MSSANZ for their great conference organisation work and for allowing us to co-locate in 2017. We are particularly indebted to the efforts of Julia Piantadosi, Karen Moobs and David Post. It was announced in Hobart that MODSIM 2019 will be held in Canberra, and ASOR has been invited to be part of the event once more.
ASOR National Conference 2018
ASOR Melbourne will host this in December 2018. The organising committee at present consists of David Marlow, Rodolfo Garcia-Flores and Simon Dunstall.
---
Past News Items
ASOR National Conference 2016
Updated 14 November 2016
The 2016 ASOR National Conference will be hosted by the ASOR Canberra branch, will be joint with Defence OR Symposium (DORS), and will take place in Canberra on 16-17 November 2016. Further information is found at ASOR Conferences. ASOR gratefully acknowledges the generous sponsorship and support it is receiving from Defence Science and Technology Group (DSTG) and CSIRO Data61 for the 2016 National Conference.
---
ASOR/MODSIM/DORS 2017
Posted 27 August 2016
ASOR is pleased to be once again joining with the MODSIM conference in 2017. This will be held in early December 2017 in Tasmania. The conference website is at http://www.mssanz.org.au/modsim2017/.
---
Ren Potts Medal and ASOR Rising Star Award 2016
Posted 27 August 2016
As alerted earlier in August via the email list, ASOR will be awarding the Ren Potts medal and Rising Star Award again in 2016. Nominations are currently open, and will close at the end of September. See ASOR Ren Potts Medal and ASOR Rising Star Award for further information.
---
Health Workshop
Updated 7 June 2016
Robert Burdett (Chairperson ASOR-Qld 2016), on behalf of ASOR, is pleased to invite members and non-members to attend our workshop on Health Care Planning and Operational Research.

The one day workshop will be held on Friday the 7th of October at the Queensland Treasury Casino from 8.30am to 5pm. Morning and afternoon tea and lunch will be provided.

Further conference details can be found on the flyer for the event

We expect everyone who attends this workshop will receive value from the program and will enjoy the atmosphere and surroundings of this first class venue.

If you have any queries please don't hesitate to contact Robert.
---
Matheuristic Algorithms for Synchromodal Network Design
Updated 7 June 2016
1 Post-Doctoral Fellow and 2 PhDs required, Monash University, Melbourne.
This is an industry sponsored project focusing on integer programming optimisation methods and modelling of the movement of containers through the system between ships and the destination/origin of the containers being imported/exported. This requires consideration of:
Ship loading/unloading and possibly temporary storage at the port,
Truck and train unloading/loading at the port,
Routing of containers via possibly one or more inland terminals,
Mode choice between trains and trucks and scheduling of container movements,
Storage at the inland terminals as well as scheduling of loading and unloading operations.
At the strategic level, choices need to be made regarding capital investment decisions relating to truck fleet size, railing capacities, equipment for handling containers at the terminals and storage capacities. Operating this transport infrastructure in a synchromodal manner requires adaptively making decisions on timing, mode choice and route choice of container movements. Container movements are restricted by release times and due dates, that is time windows between which they must be picked up and delivered. These time windows are typically determined by customers and shipping companies and subject to change. The travel times of trucks are also likely to vary significantly during periods of congestion. Hence the need for an adaptive, synchromodal operating mode.
The project requires one Post-Doctoral Fellow and two Doctoral (PhD) students working on specific aspects of the overall problem.
If you have a background and interest in a PhD in operations research, particularly routing, scheduling problems, transportation/logistics problems, decomposition methods and/or heuristics, you should express interest in this by sending email to This email address is being protected from spambots. You need JavaScript enabled to view it. and/or This email address is being protected from spambots. You need JavaScript enabled to view it.
If you have a PhD in operations research and have worked in some (or all of), routing, scheduling problems, transportation/logistics problems, container terminal operations, decomposition methods and/or heuristics, and if you have a strong publications record, you should express interest in the Post-Doctoral position by sending email to This email address is being protected from spambots. You need JavaScript enabled to view it. and/or This email address is being protected from spambots. You need JavaScript enabled to view it.
---
ASOR Recent Advances 2016
Updated 19 May 2016

Recent Advances was held on 31 March and 1 April 2016, at the School of Mathematical Sciences, Monash University Clayton Campus (see Recent Advances 2016 for more info).
We had two full days of presentations, as well as a welcome reception and the ASOR National AGM.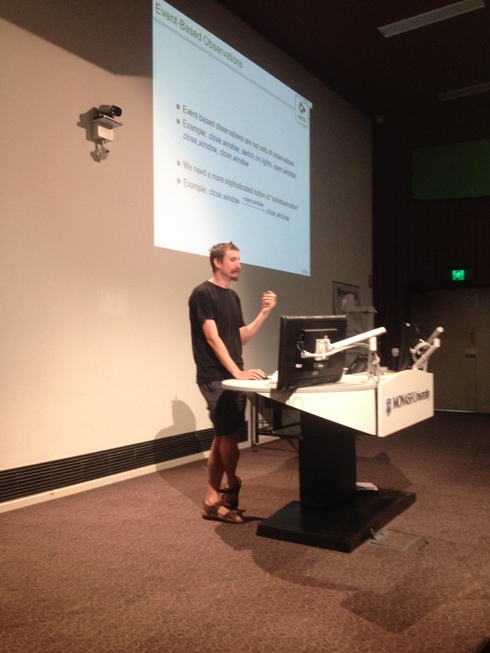 Data61's Alban Grestian presenting at ASOR Recent Advances 2016, on 1 April, about diagnosis in planning and scheduling.
MAXIMA @Monash and CSIRO Data61 provided in-kind support and significant funding for the event, and this assistance and partnership is very much appreciated by ASOR.
---
ASOR Melbourne AGM and Seminar
Updated 10 March 2016
The Melbourne chapter of ASOR, including representation from South Australia and Newcastle, will hold its Annual General Meeting on 16 March 2016, 3:30pm, in Room 7.84 of Building H at Monash University Caulfield Campus. Attendance by teleconference will be facilitated.

At the AGM we will present annual reports and also hold elections for 2016 office bearers.

AGM Seminar

The AGM will be followed at 4pm by a seminar by Yury Kryvasheyeu from CSIRO Data61.

Rapid assessment of disaster damage using social media activity

Could social media data aid in disaster response and damage assessment? Countries face both an increasing frequency and an increasing intensity of natural disasters resulting from climate change. During such events, citizens turn to social media platforms for disaster-related communication and information. Social media improves situational awareness, facilitates dissemination of emergency information, enables early warning systems, and helps coordinate relief efforts. In addition, the spatio-temporal distribution of disaster-related messages helps with the real-time monitoring and assessment of the disaster itself. We present a multiscale analysis of Twitter activity before, during, and after Hurricane Sandy. We examine the online response of 50 metropolitan areas of the United States and find a strong relationship between proximity to Sandy's path and hurricane-related social media activity. We show that real and perceived threats, together with physical disaster effects,
are directly observable through the intensity and composition of Twitter's message stream. We demonstrate that per-capita Twitter activity strongly correlates with the per-capita economic damage inflicted by the hurricane. We verify our findings for a wide range of disasters and suggest that massive online social networks can be used for rapid assessment of damage caused by a large-scale disaster.

Call for Committee Nominations

ASOR Melbourne encourages its members to nominate for the 2016 ASOR Melbourne Committee. Get involved and make a difference to your OR & Analytics commercial, industrial and R&D community. We are seeking nominations for the office bearer positions (President, Vice President, Treasurer, Secretary),  representative positions (DSTG Representative, SA Representative, Newcastle Representative, Student Representative), and general committee positions.

Nomination forms are available at http://asor.org.au/files/forms/asormelbctenomform2016.pdf
---
ASOR Rising Star and Ren Potts Medal
30 November 2015, updated 17 February 2016

ASOR is proud to announce that at the first day of the ASOR/MODSIM/DORS 2015 conference on 30 November, we awarded Ren Potts medals to Erhan Kozan and to Phil Howlett, and the ASOR Rising Star Award to Hassan Hijazi. Congratulations to these three extremely worthy winners. Citations for Erhan and Phil can be found at ASOR Ren Potts Medal, and Hassan at ASOR Rising Star Award.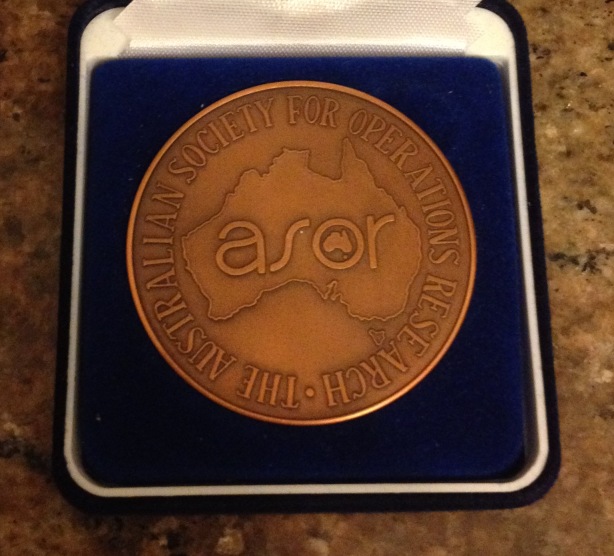 ---
ASOR-MODSIM-DORS Conference
30 November 2015
If you're into twitter keep up with the hashtags #ASOR and #MODSIM2015. The final program for ASOR/MODSIM/DORS 2015 can be found at the MODSIM 2015 website.
---
September 2015 Seminar
November 2015
On 30 September 2015, Andreas Ernst presented "A retrospective of over two decades of Operations Research at CSIRO" at Monash Caulfield. Andreas explained that the Operations Research group at CSIRO was formed in the early 1990s, driven significantly by vision from Noel Barton, and in the early days included several people including Graham Mills, Mark Westcott, Mohan Krishnamoorthy and David Sier. This group has since been a significant part of the OR scene in Australia, though it is now coming to an end, to be reborn as part of the new Data61 Optimisation Group led by Toby Walsh. The talk by Andreas surveyed some key achievements over the past 20 years, in applications in hub location, rostering, and bulk material (mining) supply chains in particular, and also in nurturing and inspiring many across the Australian and international OR community. A recording of the seminar will be available on the ASOR Youtube channel: https://www.youtube.com/user/AusORSoc
---
Awards and Careers
REMINDER: ASOR Ren Potts Medal and ASOR Rising Star Award
Updated 22 September 2015
We have a current call for nominations for these ASOR-awarded achievement prizes:
Nominations close on 30 September 2015, and the awards will be presented at the ASOR/MODSIM/DORS conference in December.
PhD Scholarship Opportunities Monash-NICTA Victorian Research Lab
22 September 2015
Monash/NICTA are seeking two enthusiastic students to undertake two research topics in the area of Optimisation entitled:
1. Incremental Power Network Transformation with Uncertainty
2. Co-Optimisation of Power Network Operations and Renewable Investment
Successful scholarship applicants will be supervised by at least one NICTA affiliated academic staff member from the Faculty of Information Technology.
For detailed information see http://www.seek.com.au/job/29032623
ASOR Canberra Student Prize
24 August 2015
ASOR ACT Chapter calls for nominees for the best Operations Research (OR) Postgraduate Research Award 2015. The award aims to encourage and reward students for excellence in the OR field, and provides a forum for students to share their academic excellence and research findings. See http://asor.org.au/files/ACT_Student_Award.pdf for more information. Nominations close 7 September 2015.
---
Social Media and Networking
Latest YouTube Channel Additions
We've recently added:
The Science Foundation of Evidence-Based Policy and Decision Making, an ASOR Canberra seminar by Dr Alex Zelinsky (Chief Defence Scientist).
Degeneracy - Design Principle for Adaptable and Robust Complex Systems, an ASOR Wednesday seminar by Dr Axel Bender (DSTO) presenting from University of South Australia, Mawson Lakes on 20 May 2015.
Visit https://www.youtube.com/user/AusORSoc for our ASOR YouTube Channel
---
Conferences and Meetings
ASOR National Conference 2015
The ASOR National Conference 2015 is embedded within MODSIM 2015 on the Gold Coast, 29 November to 4 December 2015.
http://mssanz.org.au/modsim2015/
Submission of Full Papers or Extended Abstracts was due on 31 July 2015. Authors should expect peer reviews to be communicated to them in early September, and final versions of papers must be ready by 2 October to enable printing for the conference as well as for indexing by ISI.
Earlybird registration closes on 28 August, and the price rises by over $100 for standard registrations.
ASOR National AGM 2015
ASOR will hold its Annual General Meeting for 2015 during ASOR/MODSIM/DORS 2015 on the Gold Coast.
---
Membership and Admin Matters
President's Reports for 2013 and 2014
Updated 1 September
President's Reports, for 2013 and 2014, have been posted at ASOR Annual Reports.
---
Past Newsletters
From a time when we had newsletters rather than a rolling news feed...
This edition of the newsletter covers:
ASOR Recent Advances 2014
Information on upcoming ASOR seminars
Events in late 2014 and early 2015
People News
More Australian OR in the running for the Edelman Prize
ASOR/NICTA/Monash Seminar
More ...
Sep 2014

This edition of the newsletter covers:
ASOR Recent Advances 2014
Information on upcoming ASOR seminars, including
ASOR Rising Start Award
Biarri Applied Mathematics Conference 2014
People News
Forthcoming ASOR Seminars
Optimisation Session at AustMS 2014
Position at U. Newcastle
More ...
Aug 2014

This edition of the newsletter covers:
ASOR's plan for standalone and joint conferences in 2014, 2015 and 2016.
A review of IFORS Barcelona, by Ian Monks.
Information on upcoming ASOR seminars, including
Leorey Marquez: Application of Participatory Risk Assessment for Creating Disaster Risk Sensitive Shelter Plans (20 Aug in Vic)
Rob Burdett: An Integrated Approach for Earthwork Allocation, Sequencing and Routing (15 Sep in Qld).
Changes in the ASOR National Executive.
A call for nominees for the ASOR Rising Star award (due 30/9) and ASOR Bulletin co-editors.
News from various parts.
Summer school, conference and job announcements.
June 2014

May 2014

April 2014