ASOR Conferences
ASOR National Conference 2021 - ASOR at MODSIM 2021
The MODSIM Conference in 2021 will be at Darling Harbour in Sydney and ASOR is again a partner in the conference. It is our national conference for 2021.
---
IFORS 2021 - South Korea
The IFORS 2020 conference has been postponed until August 2021. See the IFORS website for more information.
ASOR is a member of IFORS, through the Asia-Pacific OR Societies (APORS).
---
ASOR National Conference 2019 - ASOR and DORS at MODSIM 2019
We are very grateful to MSSANZ for inviting us to once again be part of their major event, MODSIM, in Canberra from 1-6 December 2019. The call for papers has closed. Visit https://mssanz.org.au/modsim2019/index.html for information and registration.
ASOR's plenary speaker and special guest is Jerry Brown: Gerald G. Brown, Ph.D., is an Emeritus Distinguished Professor of Operations Research at the Naval Postgraduate School, where he has taught and conducted research in optimization and optimization-based decision support since 1973, earning awards for both outstanding teaching and research. His military research has been applied by every uniformed service, in areas ranging from strategic nuclear targeting to capital planning. He has been awarded the Barchi, Mennekin, Rist, and Thomas prizes for military operations research, is credited with guiding investments of more than a trillion dollars, and has earned the INFORMS President and Steinhardt Prizes for lifetime achievements. He has designed and implemented decision support software used by the majority of the Fortune 50, in areas ranging from vehicle routing to supply chain optimization. His research has earned patents and appears in scores of open-literature publications and classified reports, some of which are seminal references. Brown is an elected member of the National Academy of Engineering, a recipient of two US Navy Distinguished Civilian Service Medals, and an INFORMS Fellow.

ASOR will once again offer a Student Presentation Prize for the ASOR/DORS stream at the conference. Students, please do make sure we know you are in contention, by emailing This email address is being protected from spambots. You need JavaScript enabled to view it. before the conference. We are good, but not perfect, at identifying who is and isn't a student based on the conference program. Three aspects with equal weight - presentation style, presentation structure, and presentation scientific/technical content - will form the basis of our selection of prize winner.

See https://mssanz.org.au/modsim2019/ for more information about the conference, plenaries and events.
---
ASOR National Conference 2018
ASOR 2018 / DORS 2018 was the 26th National Conference of the Australian Society of Operations Research. It was held in Melbourne from 4 to 6 December 2018. The ASOR / DORS 2018 conference brought together 260 delegates in optimisation, operations planning, informatics, operations research, defence, simulation and modelling of industrial operations, statistics and big data analytics. The Full Papers (peer reviewed) will be published as a monograph by Springer later in 2019.
The dedicated website for the conference is at http://www.confer.nz/asor-dors2018/.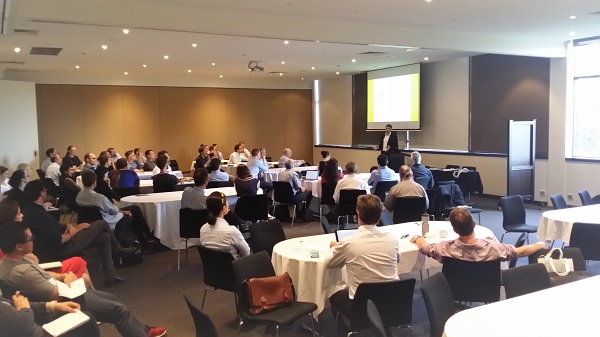 (Above) Kyle Rogers from SCLAA speaking as part of the Last Mile Logistics workshop on Day 3 of the ASOR-DORS 2018 Conference.
---
ASOR National Conference 2016
The 24th National Conference of the Australian Society for Operations Research was held on 16-17 November 2016 in Canberra, joint with the Defence OR Symposium (DORS). The conference included two types of submissions: Extended Abstracts and Full-Papers. Extended abstracts were published on the conference CD, and full papers were published by Springer in Lecture Notes in Management and Industrial Engineering (LNMIE) under the title Data and Decision Sciences in Action. Full details are available at the Conference Website.
---
Past Conferences
Past conferences we have hosted and organised:
IFORS 2011 in Melbourne
ASOR Recent Advances (annually)