ASOR Conferences
ASOR National Conference 2019
We are very grateful to MSSANZ for inviting us to once again be part of their major event, MODSIM, in Canberra in December 2019. A call for papers is expected in late February or early March.
---
ASOR National Conference 2018
ASOR 2018 / DORS 2018 was the 26th National Conference of the Australian Society of Operations Research. It was held in Melbourne from 4 to 6 December 2018. The ASOR / DORS 2018 conference brought together 260 delegates in optimisation, operations planning, informatics, operations research, defence, simulation and modelling of industrial operations, statistics and big data analytics. The Full Papers (peer reviewed) will be published as a monograph by Springer later in 2019.
The dedicated website for the conference is at http://www.confer.nz/asor-dors2018/.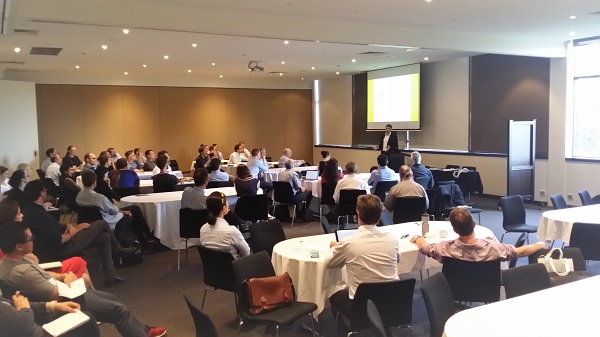 (Above) Kyle Rogers from SCLAA speaking as part of the Last Mile Logistics workshop on Day 3 of the ASOR-DORS 2018 Conference.
---
ASOR National Conference 2016
The 24th National Conference of the Australian Society for Operations Research was held on 16-17 November 2016 in Canberra, joint with the Defence OR Symposium (DORS). The conference included two types of submissions: Extended Abstracts and Full-Papers. Extended abstracts were published on the conference CD, and full papers were published by Springer in Lecture Notes in Management and Industrial Engineering (LNMIE) under the title Data and Decision Sciences in Action. Full details are available at the Conference Website.
Past Conferences
Past conferences we have hosted and organised:
IFORS 2011 in Melbourne
ASOR Recent Advances (annually)